CENTER FOR Infectious Diseases, MOLECULAR VIROLOGY
brief description
The division Molecular Virology has a world-leading position in molecular research on hepatitis viruses (HBV, HDV and HCV) and flaviviruses (e.g. Dengue and Zikavirus). The Molecular Virology is headed by Prof. Bartenschlager and has four research teams (Team Bartenschlager, Lohmann, Ruggieri and Urban) to which more than 50 international members belong. All four project leaders have published in highly renowned journals (Science, Nature, EMBO Journal, Cell Host & Microbes, Nature Medicine etc) with Bartenschlager ~300 papers, h-index 88, Lohmann ~120 papers, h-index 52 , Ruggieri ~30 papers, h-index 15, and Urban ~80 papers, h-index 44.
The Molecular Virology division is located in the Center for Integrative Infectious Disease Research (CIID), a new research building dedicated to infection research, where fully equipped and state-of-the art BSL 1-3 research premises are available. Furthermore access is provided to the Infectious Diseases Imaging Platform (IDIP) that is suitable for image-based read-outs of high-content screens as well as high-end imaging (live, confocal) under biosafety level (BSL) 2 and 3 conditions, the DZIF imaging platforms and the electron microscopy core facility (EMCF) of the cluster of excellence "CellNetworks".
---
Set of specification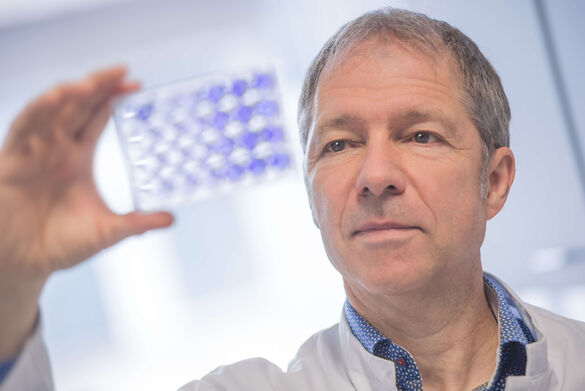 Core competencies and disease focuses
Research on hepatitis viruses and flaviviruses
Development of antivirals and novel antiviral therapy concepts
Education and teaching of students, MD and PhD students (medicine and biology; heading doctoral study program on infectious diseases; heading Master Molecular Bioscience, Major Infectious Diseases; Integrated Graduate School "Immunolvirology" of the TRR179)
Member institution DZIF
Speaker of TRR179 – Persistence of hepatitis viruses
President of "Gesellschaft für Virologie (GfV)"
---
RESEARCH NEWS
Approval of Hepcludex, a drug developed in the Molecular Virology Department in Heidelberg, for the treatment of hepatitis D virus infection
The drug is called Hepcludex/bulevirtide, formerly known as Myrcludex B. Hepcludex and has been developed by Prof. Stephan Urban at the research division Molecular Virology in Heidelberg.
The drug inhibits the entry of Hepatitis D Virus (HDV) and Hepatitis B Virus into liver cells by blocking the viral receptor. Hepcludex has received provisional approval after very favorable data from two phase 2 clinical trials. This approval makes the drug available to patients suffering from chronic hepatitis D.
WORKING GROUPS WITH INTERNATIONAL EXPERTISE
AG Bartenschlager
Molecular virology of hepatitis and flaviviruses
AG Lohmann
VIRUS – HOST CELL INTERACTIONS
AG Ruggieri
Impact of virus-induced oscillating stress response on host cell homeostasis and immune response induction
AG Urban
Hepatitis B Research Group
Internationally recognized certifications and distinctions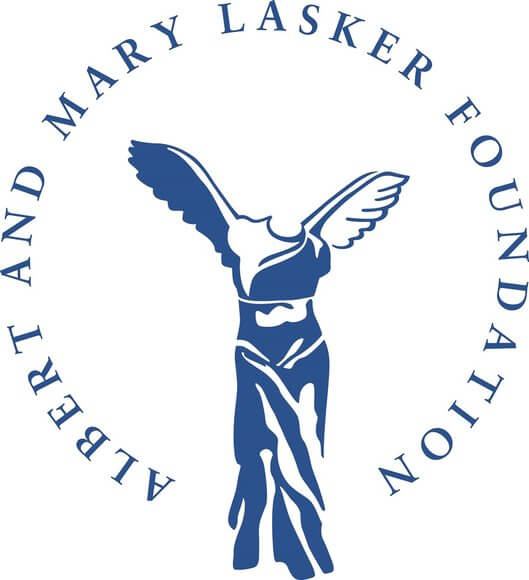 Lasker-DeBakey Clinical Medical Research Award 2016:
For development of a system to study the replication of the virus that causes hepatitis C and for use of this system to revolutionize the treatment of this chronic, often lethal disease
Jointly with Charles M. Rice and Michael Sofia
PRINCE MAHIDOL AWARD FOR PROF. DR. RALF BARTENSCHLAGER:
The Thai Prince Mahidol Award Foundation chose the virologist for this year's award, which was named after His Royal Highness Prince Mahidol von Songkla. Bartenschlager receives the award for his research work on the hepatitis C virus.
Robert Koch Award 2015:
Laureates lay the foundation for dramatic advances in the treatment of hepatitis C
Jointly with Charles M. Rice

BEIJERINCK VIROLOGY PRIZE FOR RESEARCH ON HEPATITIS C
The Royal Netherlands Academy of Arts and Sciences has awarded Ralf Bartenschlager the M.W. Beijerinck Virology Prize for his efforts to combat hepatitis C.
He will receive the €35,000 prize and a medal at the Dutch Annual Virology Symposium on 5 March 2021.
CURRENT INTERNATIONAL Collaborations
Understanding the molecular and cellular mechanisms which orchestrate the hepatitis virus/ flavivirus replication cycles
Studying the host-pathogen interaction and the inter-pathogen interactions by employing biochemistry, molecular and cellular biology techniques
Studying the innate immunity against hepatitis viruses and flaviviruses
Developing antiviral drugs / therapy concepts and understanding their mode of action
Ongoing studies with international relevance
Publications with international reach
Cell Host Microbe. 2020 Dec 9;28(6):853-866.e5. doi: 10.1016/j.chom.2020.11.003. Epub 2020 Nov 17. Integrative Imaging Reveals SARS-CoV-2-Induced Reshaping of Subcellular Morphologies. Mirko Cortese 1, Ji-Young Lee 2, Berati Cerikan 3, Christopher J Neufeldt 3, Viola M J Oorschot 4, Sebastian Köhrer 5, Julian Hennies 6, Nicole L Schieber 7, Paolo Ronchi 4, Giulia Mizzon 8, Inés Romero-Brey 7, Rachel Santarella-Mellwig 4, Martin Schorb 4, Mandy Boermel 4, Karel Mocaer 7, Marianne S Beckwith 7, Rachel M Templin 7, Viktoriia Gross 7, Constantin Pape 9, Christian Tischer 10, Jamie Frankish 11, Natalie K Horvat 12, Vibor Laketa 13, Megan Stanifer 3, Steeve Boulant 14, Alessia Ruggieri 3, Laurent Chatel-Chaix 15, Yannick Schwab 16, Ralf Bartenschlager 17. Affiliations. PMID: 33245857 PMCID: PMC7670925 DOI: 10.1016/j.chom.2020.11.003
Lohmann V, Körner F, Koch JO, Herian U, Theilmann L, Bartenschlager R. (1999). Replication of subgenomic hepatitis C virus RNAs in a hepatoma cell line. Science 285:110-113. (ct=2170).
Wakita T*, Pietschmann T*, Kato T, Date T, Miyamoto M, Zhao Z, Murthy K, Habermann A, Kräusslich HG, Mizokami M, Bartenschlager R* and Liang TJ. (2005). Production of infectious hepatitis C virus in tissue culture from a cloned viral genome. Nature Medicine, 11:791-796. * Equal contribution. (ct=2037).
Quinkert D, Bartenschlager R, Lohmann V. (2005). Quantitative analysis of the hepatitis C virus replication complex. J Virol. 79(21):13594-605.(ct=200).
Pietschmann T, Kaul A, Koutsoudakis G, Shavinskaya A, Kallis S, Steinmann E, Abid K, Negro F, Dreux M, Cosset FL, Bartenschlager R. (2006). Construction and characterization of infectious intragenotypic and intergenotypic hepatitis C virus chimeras. Proc Natl Acad Sci U S A. 103(19):7408-13. (ct=528).
Schulze A, Gripon P, Urban S. (2007). Hepatitis B virus infection initiates with a large surface protein-dependent binding to heparan sulfate proteoglycans. Hepatology. 46(6):1759-68. (ct=198).
Petersen J, Dandri M, Mier W, Lütgehetmann M, Volz T, von Weizsäcker F, Haberkorn U, Fischer L, Pollok JM, Erbes B, Seitz S, Urban S. (2008). Prevention of hepatitis B virus infection in vivo by entry inhibitors derived from the large envelope protein. Nat Biotechnol. 26(3):335-41 (ct=247).
Welsch S, Miller S, Romero-Brey I, Merz A, Bleck CK, Walther P, Fuller SD, Antony C, Krijnse-Locker J, Bartenschlager R. (2009). Composition and three-dimensional architecture of the dengue virus replication and assembly sites. Cell Host Microbe. 5:365-75 (ct=528).
Reiss S, Rebhan I, Backes P, Romero-Brey I, Erfle H, Matula P, Kaderali L, Poenisch M, Blankenburg H, Hiet MS, Longerich T, Diehl S, Ramirez F, Balla T, Rohr K, Kaul A, Bühler S, Pepperkok R, Lengauer T, Albrecht M, Eils R, Schirmacher P, Lohmann V, Bartenschlager R. (2011). Recruitment and activation of a lipid kinase by hepatitis C virus NS5A is essential for integrity of the membranous replication compartment. Cell Host Microbe 9(1):32-45. (ct=306).
Ruggieri A, Dazert E, Metz P, Hofmann S, Bergeest JP, Mazur J, Bankhead P, Hiet MS, Kallis S, Alvisi G, Samuel CE, Lohmann V, Kaderali L, Rohr K, Frese M, Stoecklin G, Bartenschlager R. (2012). Dynamic oscillation of translation and stress granule formation mark the cellular response to virus infection. Cell Host Microbe. 12(1):71-85. (ct=88).
Ni Y, Lempp FA, Mehrle S, Nkongolo S, Kaufman C, Fälth M, Stindt J, Königer C, Nassal M, Kubitz R, Sültmann H, Urban S. (2014). Hepatitis B and D viruses exploit sodium taurocholate co-transporting polypeptide for species-specific entry into hepatocytes. Gastroenterology. 146(4):1070-83. (ct=257).
Harak C, Meyrath M, Romero-Brey I, Schenk C, Gondeau C, Schult P, Esser-Nobis K, Saeed M, Neddermann P, Schnitzler P, Gotthardt D, Perez-Del-Pulgar S, Neumann-Haefelin C, Thimme R, Meuleman P, Vondran FW, De Francesco R, Rice CM, Bartenschlager R, Lohmann V. (2016). Tuning a cellular lipid kinase activity adapts hepatitis C virus to replication in cell culture. Nat Microbiol. 2:16247. (ct=17).
Roth H, Magg V, Uch F, Mutz P, Klein P, Haneke K, Lohmann V, Bartenschlager R, Fackler OT, Locker N, Stoecklin G, Ruggieri A. (2017). Flavivirus Infection Uncouples Translation Suppression from Cellular Stress Responses. MBio. 8(1). pii: e02150-16 (ct=14).
Lauber C, Seitz S, Mattei S, Suh A, Beck J, Herstein J, Börold J, Salzburger W, Kaderali L, Briggs JAG, Bartenschlager R. (2017). Deciphering the Origin and Evolution of Hepatitis B Viruses by Means of a Family of Non-enveloped Fish Viruses. Cell Host Microbe. 22(3):387-399.
Schult P, Roth H, Adams RL, Mas C, Imbert L, Orlik C, Ruggieri A, Pyle AM, Lohmann V. (2018). microRNA-122 amplifies hepatitis C virus translation by shaping the structure of the internal ribosomal entry site. Nat Commun. 9(1):2613.
Neufeldt CJ, Cortese M, Scaturro P, Cerikan B, Wideman JG, Tabata K, Moraes T, Oleksiuk O, Pichlmair A, Bartenschlager R. (2019). ER-shaping atlastin proteins act as central hubs to promote flavivirus replication and virion assembly. Nat Microbiol. 4(12):2416-2429.
Lempp FA, Schlund F, Rieble L, Nussbaum L, Link C, Zhang Z, Ni Y, Urban S. (2019). Recapitulation of HDV infection in a fully permissive hepatoma cell line allows efficient drug evaluation. Nat Commun. 10(1):2265.